Back to Charity and Community
Society raises £1,200 in Great Yorkshire Bike Ride
Eleven cyclists from our Head Office raised £1,200 for Hollybank Trust by taking part in the Great Yorkshire Bike Ride.
Paul Smith, from Property Services department, finished second out of 2,000 riders in total. He completed the ride in three and a half hours, averaging 20.8 miles per hour across the 73 miles from Wetherby to Filey.
Our Finance Director, Robin Litten, and General Manager - Finance, Gary Mitchell, finished one hour later. The tandem duo of Stephen and John Wadham (Intermediary team) finished after five hours.
Hollybank Trust, based in Mirfield in West Yorkshire, gives high quality care to around 100 severely disabled children, young people and adults.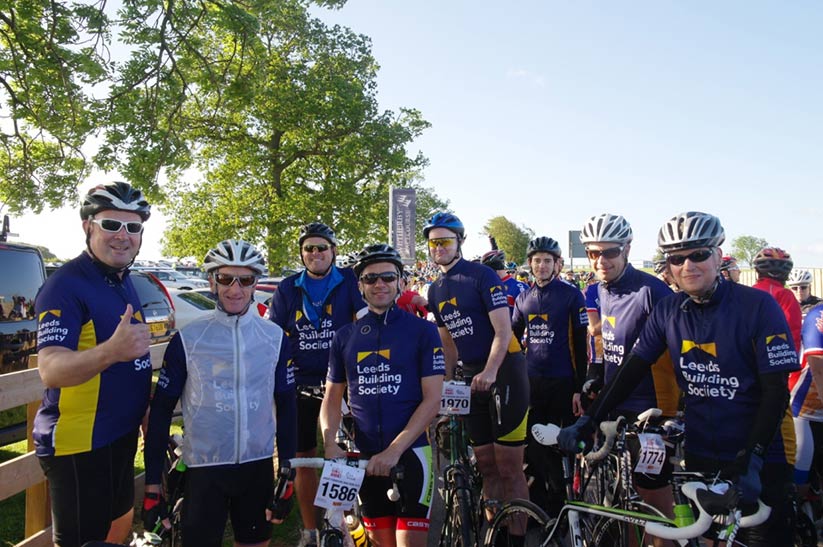 Pictured (L-R) are Kevin Mowles (Head of Business Support), Paul Smith (Maintenance Supervisor - Property Services), Martin Rhodes (Head of Change Delivery), Gary Mitchell (General Manager – Finance), John Wadham (Telephone Business Development Manager - Intermediary team), Stephen Wadham, Robin Litten (Finance Director) and Oliver Stowe (Head of Financial Planning, Reporting and Control).