Back to Charity and Community
Hadrian's Walkers raise money for Teenage Cancer Trust
This September, the Regional Management Team will be walking the 84 mile trek along Hadrian's Wall to raise money for Teenage Cancer Trust.
Every year the Regional Management Team takes part in a charity challenge to raise money for a national charity. This year, inspired by Stephen Sutton's story, the Team decided to raise as much as possible for this fantastic cause.
Teenage Cancer Trust is dedicated to improving the quality of life and chances of survival for young cancer patients aged 13-24. They fund and build specialist units in NHS hospitals and provide dedicated staff so young people can be treated by teenage cancer experts in the best place for them.
The Team will walk the length of Hadrian's Wall, 84 miles, and aims to raise £100 for every mile they walk. To show your support you can donate online at www.justgiving.com/fundraising/lbshadrianswalkers or visit your local branch.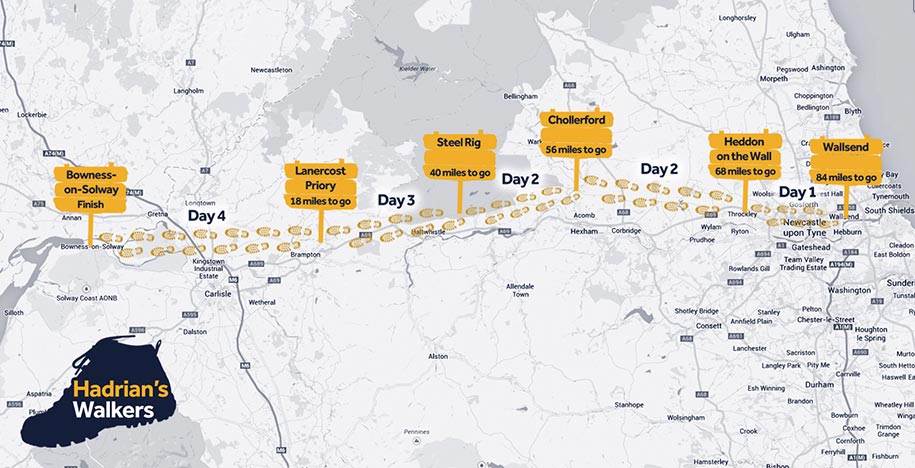 Team Updates
Day 1 - The first day's 16 mile route took the Team from Wallsend to Heddon-on-the-wall. The Team set off from Wallsend at just after 13:00, walking through Newcastle and along the Tyne. The weather was great, with the sun shining and plenty of sun cream being applied. Most of the day was spent walking along roads and pavements but the last 3 miles walking through the countryside helped them finish the day on a high and ready for Day 2.
Day 2 – It was an early start for Day 2. Fuelled by bacon sandwiches the Team set off on the 28 mile walk from Heddon-on-the-wall to Steel Rig, stopping at Chollerford for lunch. As the miles went by the sore feet and aching legs started to kick in but the good weather and Roman costumes kept them going.
Day 3 - Today's walk took them 22 miles from Steel Rig to Lanercost Priory. After two hard days walking the aches and pains had really started to kick in, with one team member needing a trip to the doctor. A rest and an early night should help them recover enough for the final day.
For updates on the Team's progress take a look at the Leeds Building Society Twitter and Facebook pages.
To find out more about Teenage Cancer Trust visit their website. www.teenagecancertrust.org