Frequently Asked Questions
Leeds Building Society is an introducer to Dignity Pre Arrangement Limited for the provision of funeral plans.
Taking out a funeral plan is a straightforward process but you may have extra queries. Below are answers to questions that customers commonly ask.
Why do I need a funeral plan?
As the graph below shows, the costs of funerals are rising faster than any savings rates. Since 2000, the average cost of a funeral has doubled†. A Prepaid Funeral Plan provided by Dignity guarantees to cover the cost of the services included in the Plan no matter how much prices rise or how long you live.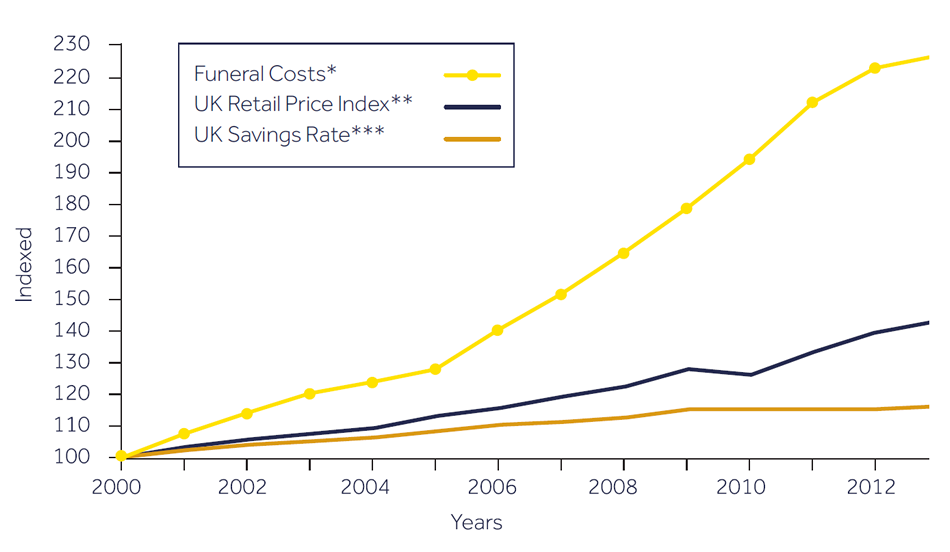 * 2000-2006 (Mintel: Funerals – UK – January 2007) | 2007-2010 (calculated using average annual compounded growth rate of 6.33% per year) | 2011-2015 (Average funeral costs research carried out by Matter Communications).
**Office of National Statistics (ONS).
*** Calculation and data source - The Investment Research Partnership Copyright 2015. UK Savings £2,500 Net Source - Morningstar Copyright 2015.
† In 2000 the average cost of a funeral was £1,580 and this had increased to £3,737 by 2015.
All figures and estimates are provided by Dignity.
The Prepaid Funeral Plan from Dignity also helps to take care of the practical funeral arrangements. You can add details in advance, adding as much or as little as you want, this ensures when the time comes your family won't be left wondering what kind of service you would have wanted.
What if Dignity goes out of business?
No matter what happens to Dignity in the future, your funeral arrangements are protected because all the money is held securely in the independent National Funeral Trust, which no one at Dignity can access. In the highly unlikely event of Dignity going out of business, the Fund Trustees would appoint or create a new company to administer all the plans and ensure that all the funerals are performed.
What happens once I've applied?
Dignity will process your application and send you a Planholder Pack within 14 days. This will contain all the information you need. It will include a second copy of the details for your Personal Representative or Funeral Organiser along with instructions on how to implement the Plan when the time comes. Dignity also provide contact details so you can get in touch with them at any time.
What if I change my mind, can I have a refund?
If you change your mind within 28 days you will receive a full refund of the money you have paid. If you cancel your Plan after 28 days, a £395 cancellation fee will be deducted from any refund due to you. Please refer to the Plan's Terms and Conditions for further details.
Can I choose my funeral director?
Only funeral directors who can guarantee to meet Dignity's price and service standards are available under the Plan. Dignity have a network of over 1,180 owned or approved Nominated Funeral Directors nationwide. After you have taken out a Plan Dignity will advise you of your Nominated Funeral Director.
What happens if I move house?
Dignity Funeral Plans are portable anywhere in mainland Great Britain, Northern Ireland, Jersey, the Isle of Wight and the Isle of Man. Simply tell Dignity your new address and they will update their records and, where necessary, advise you of your new funeral director.
What happens if I die before I've finished paying all the monthly instalments?
The arrangements and price guarantees in your Plan will remain in place provided that the person arranging your funeral agrees to pay the remaining payments in full. An invoice for the balance will then be sent after the funeral.
Talk to us today
Interested in Dignity's funeral planning service?
Find a branch