The Prepaid Funeral Plan from Dignity
Pre-planning your funeral can make sure your loved ones are helped financially during a difficult time.
Leeds Building Society introduces its members to Dignity, providers of the Prepaid Funeral Plan. The Plan fixes the costs of a cremation funeral as specified in the Plan at today's prices - protecting your loved ones from the increasing cost of funerals.
Benefits of the Prepaid Funeral Plan:
Helps relieve the financial stress on loved ones – it covers the cost of the cremation funeral services, as detailed in the Plan;
Practical - your funeral arrangements within the Plan are paid for in advance;
Fixed price - so you know what you're paying;
Flexible - allowing you to pay by a single payment or by regular instalments over a fixed period (additional charges may apply - see the Plan for details);
Straightforward - if you're aged 50 or over you can join the Plan and acceptance is guaranteed, with no medical questions asked.
Why should I consider a funeral plan?
Since 2000, funeral costs have more than doubled. As the graph below clearly shows, that's much faster than the rate of inflation (UK Retail Price Index). In fact, Dignity estimates that by 2023 funeral costs are projected to be £6,107†.
If past trends continue, with rising inflation and low interest rates it is unlikely savings you may have put aside in a typical savings account will grow at the same rate as the increasing cost of funerals.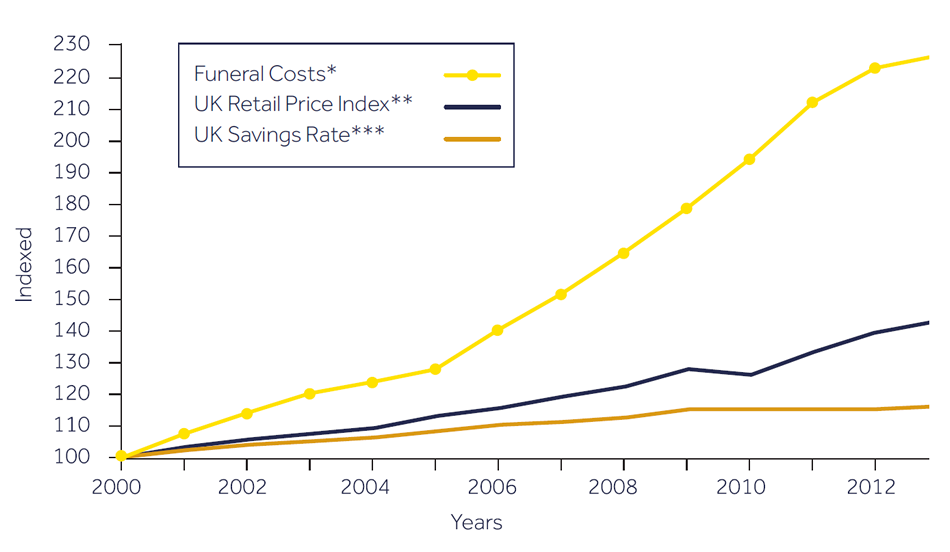 * 2000-2006 (Mintel: Funerals – UK – January 2007) | 2007-2010 (calculated using average annual compounded growth rate of 6.33% per year) | 2011-2015 (Average funeral costs research carried out by Matter Communications).
**Office of National Statistics (ONS).
*** Calculation and data source - The Investment Research Partnership Copyright 2015. UK Savings £2,500 Net Source - Morningstar Copyright 2015.
† In 2000 the average cost of a funeral was £1,580 and this had increased to £3,737 by 2015. The 2023 funeral costs forecast is based on average annual compounded growth rate of 6.33% each year between 2007 and 2015.
All figures and estimates are provided by Dignity.
What does the Plan include?
The Prepaid Funeral Plan from Dignity also helps to take care of the practical funeral arrangements. You can add details in advance, adding as much or as little as you want, this ensures when the time comes your family won't be left wondering what kind of service you would have wanted.
It also helps your loved ones by relieving the stress and expense of arranging a funeral – meaning one less thing for them to worry about. They'll just have to make one phone call to set your Plan in motion.
There are three Plans to choose from, each include arrangements for a cremation funeral.
| Payment option | The Amber | The Pearl | The Diamond |
| --- | --- | --- | --- |
| Single payment | £3,535 | £3,885 | £4,285 |
| 12 equal monthly payments (no extra charge) | £294.58 per month | £323.75 per month | £357.08 per month |

Download the Prepaid Funeral Plan Summary (PDF)
Why choose Dignity?
Leeds Building Society introduces its customers to Dignity, one of the UK's leading funeral plan providers, who delivered more than 65,000 Dignity funerals in the UK in 2014. They have a network of over 1,180 owned or approved funeral directors nationwide. You can feel reassured that your money is safe as every penny is paid in to the National Funeral Trust, an independently-managed Trust Fund.
Download the Prepaid Funeral Plan brochure (PDF)
Still have questions?
Taking out a funeral plan is a straightforward process but you might have some questions. To help we've put together some of the common questions customers ask.
View our frequently asked questions page »
Talk to us today
Interested in Dignity's Funeral Planning service?
Find a branch